An Interesting Historical Sketch of Banning Mills.
Historic Banning Mills is located in Georgia's only hidden gorge on beautiful Snake Creek in Carroll County, Georgia. The area is rich in history and home to our country inn. We invite all to visit us and explore the surrounding nature and history. Originally, the area was home to the Creek and Cherokee nations. The Native Americans lived in lodges made of pine poles and mud plaster, hile farming and hunting along the rich and fertile Chattahoochee River area.
Early Settlement and Chief William McIntosh
The early 1800's saw white settlement in the Carroll County area, which was still considered part of the Wild West. Carroll County was home to Chief William McIntosh, who was half Creek Indian. Chief McIntosh fought alongside Andrew Jackson and became a Brigadier General, the only Native American to reach that rank.
McIntosh dined with President Thomas Jefferson at the White House, and his first cousin was Governor George Troup of Georgia. Owning hundreds of acres in Georgia and Alabama, McIntosh became a wealthy businessman. His main plantation was known as Lockchau Talofau, or Acorn Town, and was located along the Chattahoochee River and Highway 5, also known as McIntosh Trail (located about 5 miles from Banning Mills).
McIntosh had nearly 100 slaves, white men, and Native Americans working for him to help run his two taverns, trading post, overnight lodge, and plantation. Chief William McIntosh signed the Treaty of Indian Springs on February 12, 1825. This treaty infuriated the Upper Creek nation and sealed his death. On May 1, 1825, a large party of Upper Creek Native Americans came to his home and set fire to it.
His wife begged for McIntosh to die bravely, and he fought valiantly against his foes. As he exited his home, he was shot several times before being dragged into his yard and stabbed to death. McIntosh is buried where he fell at Louckchau, now McIntosh Reserve, and a county park that is over 527 acres.
Developing 1800's Mill Industry
Large-scale industry was late to develop in Carroll County due to there being few water power sites. In 1846, a manufacturing community, built by the Bowen brothers, opened on Snake Creek, about two miles from present-day Whitesburg, Ga. The textile mill in the community contained 500 yarn producing spindles. The mills and town that developed in the community were originally known as Bowensville. The textile mill, known as the Amis Mill, operated throughout most of the Civil War. During the war, federal troops were ordered to find and burn the mills. Upon finding the mills in the hard to find, hidden Snake Creek Gorge, the equipment had already been shipped to South Carolina in hopes of saving the machinery. Since the mills were found in "non-working" condition, they were not burned. The federal troops did not want to return empty-handed, so they decided that Mr. Amis would accompany them. Mr. Amis did not want to be a guest of the "Yankee" troops and although he was shot in his attempt, he was able to escape and eventually recover from his wounds. The ruins of the mills are still present today.
Textile Mill Post Civil War Era
The post-Civil War era saw a decline in the success of the mill town. In 1878, Arthur Hutcheson acquired the textile mill and U.B. Wilkinson acquired the paper mill. Confirmed by Georgia Tech, Banning is considered to be the birthplace of the modern paper industry. By 1882, the textile mill, known as Hutcheson Manufacturing Company, had 2,000 spindles and 14 cards which manufactured warp and bunchy yarn. It was at this time that the name of the mill town was changed to Banning. The name change was largely due to the result of other nearby communities with similar names, Bowersville and Brownsville, which resulted in numerous postal mix-ups.
Banning Mills Post Mill Town Era
The mill town was thriving at the time of Mr. Hutcheson's death on April 5, 1895. By this time, the town contained up to ten mills, including two pulp mills, a paper mill, a grist mill and a sawmill. All of these were located within a mile apart from each other along Snake Creek. Banning was one of the first towns in Georgia to produce its own electricity – well before Atlanta. Documented diary and journal entries talk about day-long horse and buggy rides from Atlanta to watch the lights come on at Banning. Electricity was produced there until 1917.
Historic Banning Mills has multiple mill sites and ruins to explore on our hiking trails Visit our gift shop to get a book of our history and the surrounding areas. The unique geology and ecology of Snake Creek Gorge is unmatched! The topography of the Gorge made milling ideal. You can walk along the historic raceways that brought water to and powered the mills.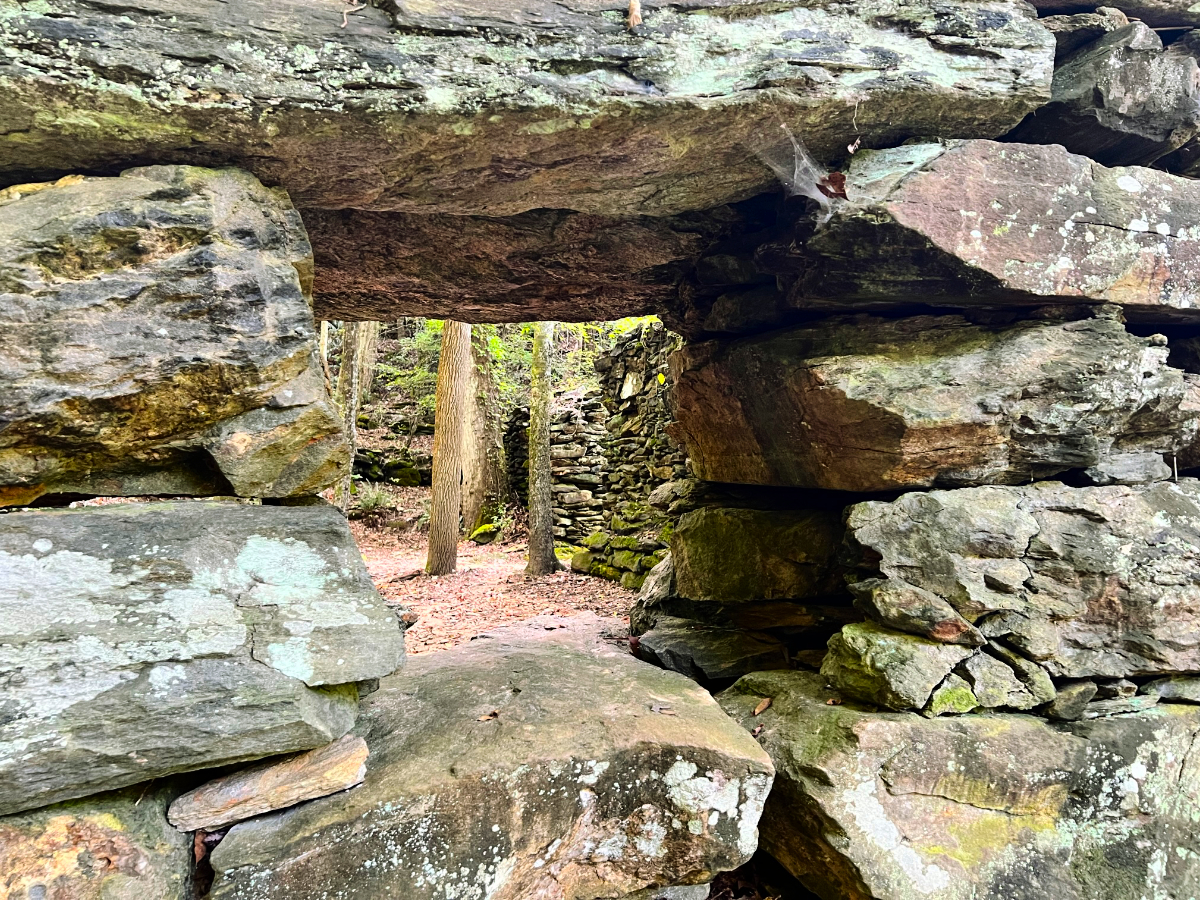 There is an enormous amount of history and unique natural features to explore at Historic Banning Mills. When some of our oldest and most beloved trees fell over the years due to old age and storms, we decided that instead of letting them rot in the woods, we would let them continue to tell of the history and nature they witnessed over hundreds of years in the form of Legacy Tree Carvings.
MAKE YOUR RESERVATIONS ONLINE TODAY!