RESORT LODGING AT HISTORIC BANNING MILLS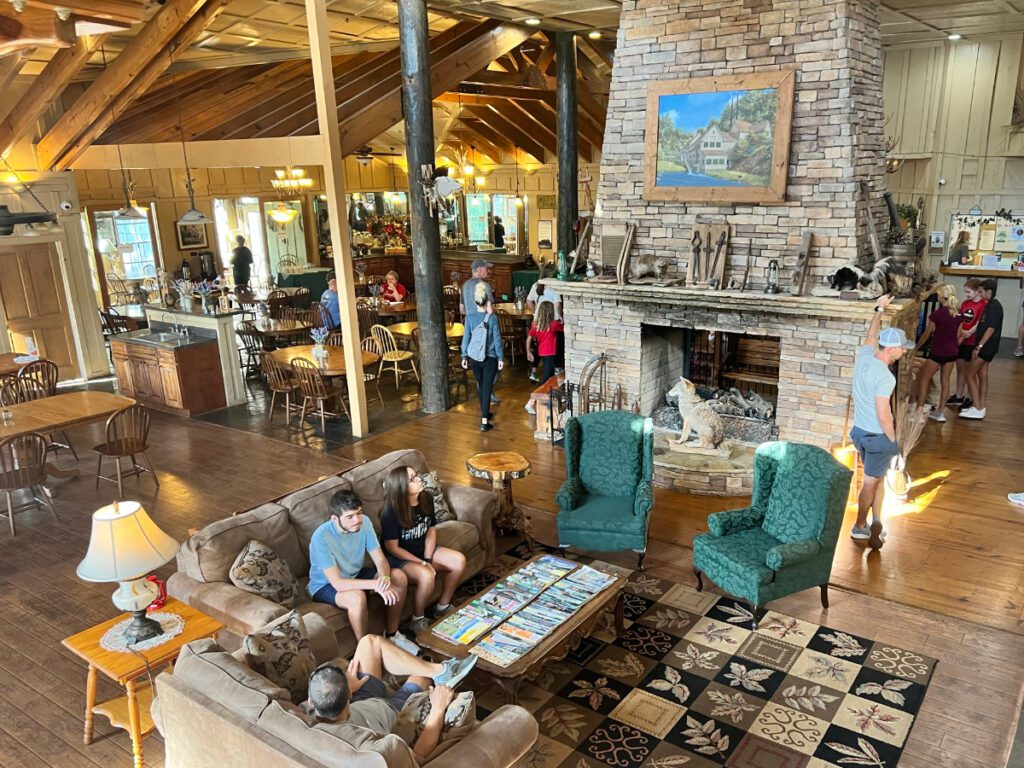 View Our Lodging Options:
A Bed and Breakfast and Conference Center nestled in the beautiful and historic Snake Creek Gorge. Plan your perfect adventure vacation only 40 minutes from Atlanta, Georgia.
Voted "Best Weekend Getaway in Georgia" by readers and viewers of WSB-TV and Access Atlanta - AJC
Planning to stay and play? We provide Adventure & Room Packages that can help you plan your perfect vacation and save money!
EXPLORE OUR TREE HOUSE ROOMS
A cozy rendition of the Swiss Family Robinson's rooms but with all the modern conveniences, our Tree House rooms have a king bed, gas log fireplace, jetted tub for two, private bathroom with shower and covered back deck overlooking the Gorge.
There is a microwave and small refrigerator in each as well as a Keurig Coffee machine. Room pricing does include a full cooked country breakfast each morning of the stay. Please remember that these really are "rooms in the air" and many are accessed by a sky bridge. The rooms will move a little but are perfectly safe and some movement is normal and to be expected. Beautiful rooms, Great views and a unique lodging experience.
Some of our Tree Houses are located across Snake Creek from the lodge and do not have satellite or cable. All Tree Houses have a DVD player and our main lodge has a library of movies for you to choose from. This provides an opportunity to get out into nature and unplug from modern distractions in order to reconnect with family!
Learn more about our Tree House Options when you reserve below.
RELAX IN OUR ROMANTIC OVERLOOK ROOMS
Relax in a Overlook room with your special someone. This room has a BIG Aspen Log King bed, a sitting area with a chair and ottoman, desk, private bathroom, in-room double jetted tub, gas log fireplace (operational in cold weather months), and decks overlooking the creek and gorge. Enjoy an in-room mini-refrigerator, Keurig coffee machine, and satellite TV. Most rooms have WiFi. Great for 2 guests.
ESCAPE TO OUR PINE LOG CABIN ROOMS
Our Pine Log Cabin Rooms are free standing with a front and back deck. Most overlook the creek and gorge. Cabin rooms have an open king bedroom downstairs with a double jetted tub. There is a gas log fireplace (operational in cold weather months). There is a small sitting area on the main level with a table and 4 chairs. There is an upstairs open loft with 2 twin beds, 1 private bathroom, Mini-refrigerator, and microwave. There is satellite TV. This room DOES NOT have a full kitchen! Great for up to 4 guests.
REST EASY IN OUR LODGE ECONOMY ROOMS
Our cute lodge rooms are our smallest and most economical. They have either two extra long and extra wide twin beds or they can be combined for a nice King bed. All have private bathrooms, tv, and access to a large outside deck overlooking the gorge. Great for 1 to 2 guests.
UNWIND IN A FULL-SIZE RUSTIC FAMILY CABIN
Designed as a natural escape, our rustic cabins are more remote and do not provide cable or satellite TV, however, there is a TV and DVD player provided. Also, due to the cabins' remote location, cell phone reception and/or internet availability CANNOT be guaranteed (all emergency services will still work). This allows your family to spend quality time together, unplugged from modern distractions, to experience nature and adventure together!
We have 5 full-sized family type cabins. The full-sized cabins have full kitchens. Appliances include full size refrigerator, microwave, stove, apartment-sized oven, and Keurig coffee machine (K-cups/coffee not provided) . We do NOT provide cookware OR serveware for meals, please plan accordingly. There is a charcoal grill but guests must provide the charcoal and lighter fluid. There are NO hair dryers in the cabins.
The Full-sized cabins can sleep 6, 8, or 9 depending on which cabin a guest reserves.
Cabin 11 can accommodate up to 9. *Prices are based on 5 guests.
Cabin 12 can accommodate up to 8. *Prices are based on 5 guests.
Cabins 14, 15, and 16 can accommodate up to 6. *Prices are based on 4 guests.
Rates differ according to which unit is rented. Rates will increase by $15 (plus tax) per person per night for reservations with more guests than the quantity each cabins' price is based on. Rates quoted DO NOT include a breakfast or any other meals. However, you may make reservations with the front office staff if you would like to dine with us at the Country Inn.
Guests must check in to the cabins BEFORE dark.
Booking: Cabins 11 and 12 can be booked online. Cabins 14 - 16 must be booked by phone.
*The number of guests using the rental premises shall not exceed the total number reserved on the reservation.
*You may not exceed the total number of people reserved. We do NOT allow extra outside guests on site unless this has been pre-arranged. Please see our website or call us at the main office if you need clarification.
*Arrangements for additional guests over reserved amount, must be made before going into your cabin, numbers will be confirmed at check in.
*Additional charges will be applied as follows: $30.00 per additional person for overnight and $15.00 per person for non-overnight guests.
*To avoid a cleaning fee, please leave the cabin in good repair, clean, and all dishes washed and put away. Cleaning fee of $250.00 applied if cabin is left uncleaned.
*Any guest under the age of 21 must have an adult in attendance.
We tried very hard to replicate the 1800's time period in many of our rooms, but with modern comforts of course!
Please remember that we are not the Ritz in the woods. We are an Adventure Destination! We are not a hotel or chain organization. We are not a luxury resort. What we are is unique and different! If you love natural beauty, history, comfortable rooms, fresh-cooked breakfasts, and above all, adventure and fun, then we are the place for you. We love being one of a kind and we think you will agree! Here is some helpful information to know before your stay:
Check-in is between 4 p.m. and 10 p.m. No check-ins will be accepted after 10 p.m. We have a gate that closes at 10 p.m. and can only be opened with a gate key that you will get at check in.
Check out is 11 a.m.
The card you use to book AND the cardholder's government-issued photo identification MUST be present at check-in for BOTH activities and lodging. We cannot check you in without verifying both your ID and the card used to book the reservation.
Room Rates include a full breakfast for 2 guests (excluding family cabins). A $15 extra guest surcharge will be added for each additional guest (5 and up) that includes breakfast. If you are staying in a family cabin and want to add breakfast, you can add it to your reservation upon checking in.
Breakfast is served from 9 a.m. to 10 a.m. in the main lodge.
Gourmet Dinner : Gourmet dinners are by reservation only. We do not have a walk-in restaurant. We do have a wonderful chef and we can prepare lunch and dinner if you let us know ahead of time. If you do not reserve a meal ahead of time (excluding breakfast), we may not be able to accommodate your dining needs. We are a short 15 to 20-minute drive to eating establishments or you may bring some take out to eat in your room after your check-in.
We have free Wi-Fi in the main lodge and surrounding area. There are many locations on property that do not get a signal. We do not guarantee you will have Wi-Fi in your room.
Rooms have AC for cooling and heating and we turn on the gas log fireplaces after the first frost (they remain turned off in warm weather).
Over 300 acres of nature trails
Seasonal pool (closes for the season on Sep. 18th)
Two 18 hole putt putt courses
Horseshoe pits
Billiards room
Gift shop
Sand volleyball Court
Basketball court
Catch/release lake
Selection of movies.
Please see the front desk to check out equipment and movies.
Lodging Policies
Please see the 7-day cancellation policy below.
Please note that coupons cannot be combined with any other discount/promotion offered.
We cannot guarantee specific room numbers. We reserve the right to move rooms as necessary as long as it is the same type.
Room rates posted on the website are for double occupancy. Additional charges will be applied as follows: $15 per person per night for ages 5 years and older (4 and under is free). This will include a full breakfast the following morning. Family Size Cabins are based on four people. Adults/Children ages 5 and up will be an additional $15 per night. Full breakfast is not included with Family Cabin reservations but may be added upon check-in for an additional fee.
The number of guests using the premises shall not exceed the total number reserved on the reservation. You may not exceed the total number of people reserved. We do NOT allow extra outside guests on site unless this has been pre-arranged. Please see our website or call us at the main office if you need clarification. Lodging amenities are for reserved guests only.
Any guest under the age of 18 must have an adult in attendance.
Family Cabin Cleaning: To avoid a cleaning fee, please leave the cabin in good repair, clean, and all dishes washed and put away. Cleaning fee of $250 applied if cabin is left uncleaned.
Lost Room or Gate Keys: Please note that if you lose your room key, it is a $25 charge and if you lose your gate key, there is a $50 charge.
Banning Mills is a NON-SMOKING facility. A $150 fee will be assessed for smoking in rooms.
NO PETS allowed on property. ONLY ADA recognized Service Animals are permitted on the property. We understand that service animals must be with their owner 24/7. Due to safety risks, we cannot allow service animals on our adventure treks. If a pet is not an ADA recognized Service Animal, a pet cleaning fee of $150 per room will be charged.
We do not offer charging stations for electric vehicles. Running cords from outlets is not permitted.
If you have issues with your room, please let us know right away. We make every effort to have your room clean and comfortable for your stay. If you find something not working in your room or not to your satisfaction, please let us know DURING your stay so we can correct the problem. We appreciate you letting us know before closing of the main office and not at check out. Thank you!
Our facility is in a historic and beautiful natural setting. Our trail systems and grounds are not considered "improved", and we leave them as natural as possible. Therefore, when out and about the property, there are potential inherent risks to consider such as stumbles, falls, collisions, sprains, fractures, cuts and abrasions, insect, animal, and snake bites as well as bee stings, allergic reactions to plants and or animals, heat or cold injuries, blisters, sore muscles, severe injuries, and possible death. These risks are not all inclusive or considered complete.
Many of our adventure treks have restrictions. Please call us for details or browse our site for more information. Packages must be scheduled ahead of time. We will try but can't guarantee short notice bookings especially for the adventure treks.
The full amount is charged onto the card at the time of booking. Credit card used at booking and government-issued photo ID matching the cardholder's name are required at check in. If a guest is unable to provide both of those at check in, or email us photos of those prior to check in, the reservation will be forfeited with NO refund.
If you must cancel, you must email that request to us. We will not take call in cancellation requests. We will then send out emailed cancellation notices. Please make sure you have this to verify that we did get your cancellation request. If you DO NOT receive the cancellation notice, please call, or email us to resend it. Please keep the cancellation notice for your verification records!
Cancellation OUTSIDE of the 7-day policy:
If you request to cancel outside the 7-day policy, we will refund the entire amount back to the card on file MINUS a $20 processing fee.
The day of your reservation does not count towards the 7 days. For example, if your reservation is on September 10th, you must cancel before close of business on September 2nd for a full refund (minus a $20 processing fee).
Cancellation INSIDE the 7-day policy:
If you request to cancel within the 7-day policy, additional charges will apply.
Overnight accommodations: the amount of the first night stay will be charged.
Activities: 50% of activity total will be charged.
Any remaining amount will be refunded to the card on file after a $20 processing fee has been applied.
Transfers:
We offer a "gift card compensation" for cancellations within 7 days of the scheduled reservation.
This must be done within the 7 days before scheduled reservation. (*NOT an option for the day of.)
Transfer fees where applicable: $25 for the room and $5 per person, per activity will be taken out of the total amount originally paid. The remaining amount on the account will be put on a gift card and emailed to you. You can rebook online or call to make reservations when ready.
Gift cards are valid for 5 years.
We want your stay at Historic Banning Mills to be as enjoyable as you could possibly imagine. We are situated in historic Snake Creek Gorge. When you visit Historic Banning Mills you can expect to be greeted by a serene natural environment. While we offer modern amenities, being in a gorge presents challenges for modern conveniences like high speed WIFI while you are out enjoying the natural environment of Historic Banning Mills. You will have WIFI service in certain areas around the property, but it is not high speed. We do have high speed WIFI available at the main lodge with dedicated WIFI in our meeting spaces for our corporate guests.